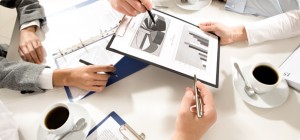 "Symphony has helped us streamline our procurement process and brought process discipline into our organization so that it has become the norm. Symphony's most valuable contribution is that it facilitates disparate companies coming together and working towards a common goal and successful procurement is about merging companies' efforts."  
                – Sachidanand Vrindavanam, Senior Director, KLA-Tencor
Does your IT department have clear line of sight into which contracts expire when and how much time will be required to negotiate a renewal?  Have you worked with internal stakeholders to prepare for the next contract renewal?
IT departments can benefit greatly by having robust procurement processes in place. A well-managed procurement process can lead to better supplier management, license compliance, audit avoidance, and reduced spending due to strong asset management.
Symphony Consulting has helped a number of businesses to lower overhead costs and get better results by:
Reducing inefficiencies in procurement processes
Developing clear and effective policies and procedures
Establishing appropriate controls to ensure the success of various initiatives
Symphony Consulting can manage or develop processes for your department in the following areas:
Contract Management
Electronic Contract Repositories
Processing and Administration
Contract Fulfillment
Audits and Compliance
Strategies for avoiding supplier audits
Manage Audits
Documentation development
True Up Processes
Establishing baselines
Organizational management
True Up order placement
Inter-department allocations
Global Software Management
Business Process Development
Document and develop procurement processes
Best practice recommendations
Establishing approval and signature level authority
M&A Integration
Review contracts during M&A assessments
Software license transfers
Global Software assessment
Asset Management
Provisioning processes
License entitlement